Belly Pooch: 16 Best Swimsuit To Hide Tummy Bulge 2023
Does the best swimsuit to hide tummy bulge really out there? I say yes! There are plenty of swimsuits that hide tummy bulge and a swimsuit for every body shape! Since summer is just around the corner, that means it's time to start thinking about swimsuit season. If you're like most people, you probably don't want to show off your belly in a bathing suit. Lucky for you, there are plenty of stylish swimsuits to hide the tummy bulge.
In this blog post, we will discuss some of the best tummy control swimsuits. We'll also provide tips on how to pick the right swimsuit for your body type. So read on to learn more!
*This post includes my affiliate links
Belly Pooch: 16 Best Swimsuit To Hide Tummy Bulge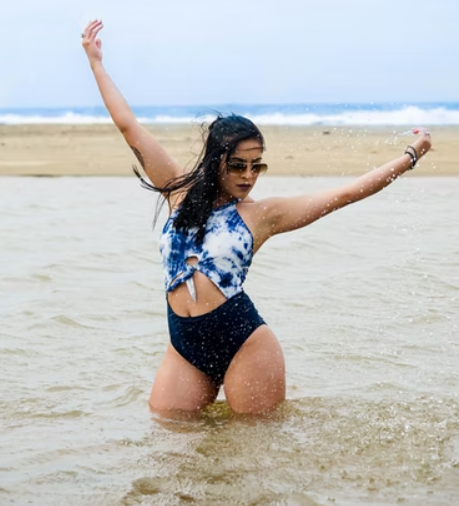 How To Find The Best Swimsuits To Hide Your Belly Pooch!
It doesn't have to be rocket science to figure out how to find the best swimsuits to hide your belly pooch! One of the best things about swimsuit season is that there are so many options to choose from.
If you're looking for a swimsuit that will help hide your muffin top, there are plenty of great choices out there. Hopefully, I will help you find the perfect choice of bathing suit just in time for warmer weather!
For example, one-piece swimsuits with ruching or shirring can be very flattering. They provide extra coverage and can help to minimize the appearance of your stomach. If you prefer two-piece swimsuits, tankinis are also a great option.
Look for tankinis with high waists or empire waists, as these will help to cover up your stomach area really well. Finally, don't forget about sarongs! Sarongs or swimsuit cover-ups work wonders when trying to conceal your tummy area and they are really cute!
One-Piece Swimwear
If you want to hide your stomach in a swimsuit, a one-piece is always a good option. Some of the best bathing suits are one-piece! One-piece swimsuits with ruching or shirring can be especially flattering.
Ruching is a gathering of fabric that creates folds or pleats. Shirring is similar, but it uses elastic instead of gathering the fabric so it might have good support.
Both ruching and shirring can help to provide extra coverage and minimize the appearance of your stomach. I happen to love a ruched pattern on my swimsuit to help cover any extra bulge I might have going on.
If you don't like the idea of wearing a one-piece swimsuit, don't worry – there are plenty of other options that can also help hide your belly!
This One-Piece Swimsuit sold on Amazon from CUPSHE is SO cute and will definitely hide that tummy fat and make you look good in all the right places making your best features stand out.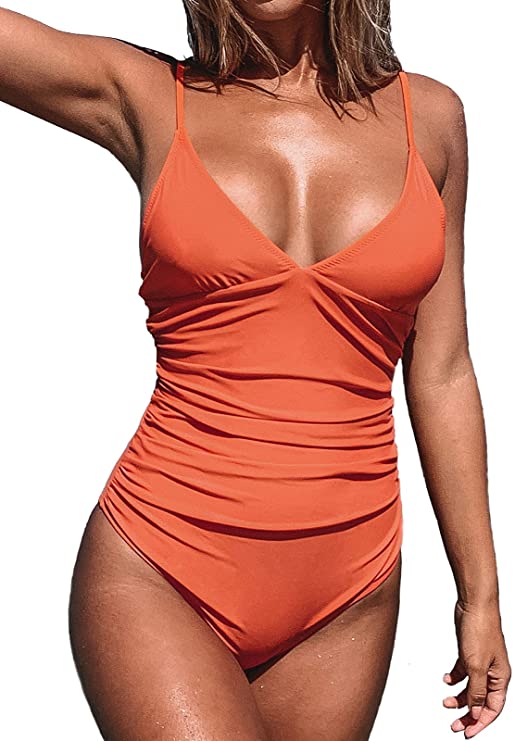 Tankinis
Another great option for hiding your stomach in a swimsuit is a tankini! A tankini is basically a two-piece swimsuit that resembles a tank top and shorts.
Tankinis are available in a variety of styles, but the most flattering for hiding your stomach are those with high-waisted bottoms or empire waists.
High-waisted swimwear extends to just below your belly button, while empire-waisted swimwear extends even higher, to right under your bust giving your midsection a slimming effect. Both of these styles will help to cover up your stomach area and offer support in that area.
This Tankini top and bottom are sold on Amazon from AnnJo and are not only really cute but hide your belly really well too! Amazon has so many high-waisted swimsuits!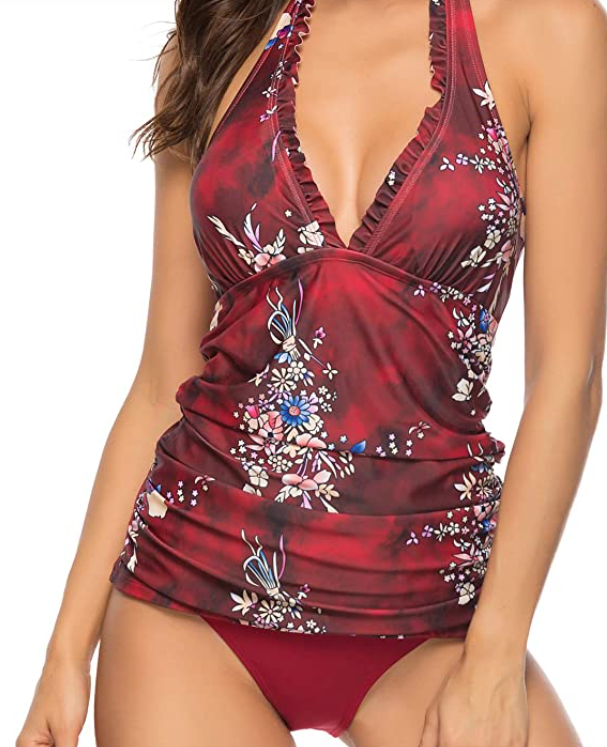 Sarongs
Sarongs are another great option for hiding your stomach in a swimsuit. Sarongs are essentially large pieces of fabric that you can tie around your waist like a skirt.
They come in a variety of colors and patterns, so you're sure to find one that you like. Sarongs can be worn over a swimsuit or as a swimsuit cover-up.
Either way, they'll help to hide your big belly and give you some extra coverage where you need it most. I own several sarongs and LOVE them! The extra fabric around my waist makes me feel more confident.
This Sarong that is sold on Amazon from Milkfeel is SO stylish and cute! And, you can wear it in a bunch of different ways! It also comes in different colors and fun prints.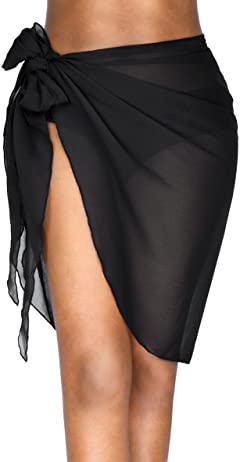 Picking the Right Swimsuit: Swimsuits To Hide the Belly
Now that you know some of the best swimsuits for hiding your belly, you might be wondering how to pick the right swimsuit for your body type.
One of the first things you need to do when shopping for a swimsuit is to figure out your body type. Are you pear-shaped, hourglass-shaped, or something else? Once you know your body type, it will be much easier to find a suit that fits well and looks good on you.
---
What Swimsuits Look Good With My Body Type?
Let's do a very quick lesson on body types! Which one do you have? (Psst! They are ALL beautiful!)
Pear-Shaped Body: If you have a pear-shaped body, look for suits with ruffles or other details on the top. This will help to balance out your proportions and help camouflage your 'problem areas' and hide belly fat.
Hourglass-Shaped Body: If you have an hourglass-shaped body, you're lucky! Almost any type of swimsuit will look good on you. Just make sure to find one that fits well in the bust (upper body), and waist, and make sure it has adjustable straps so you can bring the girls up a bit more!
Petite Frame: If you have a petite frame, look for suits with small prints or patterns. This will help to make you look curvier.
Straight Body Shape: People with a straight body shape often have a slender and athletic build, with little variation in measurements between their bust, waist, and hips. This body shape would appear more 'curvier' in a two-piece bikini with ruffles on the top and a very busy design on the bottom to draw focus on the upper and lower parts of the body. Or, a one-piece swimsuit with cutouts on the sides. This will give an illusion that your waist goes in.
Apple-Shaped Body: Individuals with an apple-shaped body typically have broader shoulders, a fuller bust, and a less defined waistline. They may also have slimmer hips and legs in proportion to their upper body. A one-piece swimsuit would look best on this body type. Go for a bold and busy pattern on the bottom part of the suit and a solid black or solid dark color on the top of the suit.
---
The Best Colors And Prints for Belly Pooch: Best Swimsuit To Hide Tummy Bulge
Many people feel self-conscious about their belly area when it comes to wearing a swimsuit. However, there are certain colors, patterns, and different styles that can help to camouflage the belly pooch and give you the confidence to hit the beach or that fun pool party you were invited to!
Here are some tips to help you choose the best swimsuit colors and patterns to hide belly pooch: to help hide that stomach fat!
*Dark Colors: Solid dark colors such as black, navy blue, and deep green are great for hiding belly pooch. These colors have a slimming effect and can make your midsection look smaller.
Solid Colors: Solid colors are great for minimizing the appearance of a belly pooch. A solid color one-piece or tankini can help to create a streamlined look and draw attention away from the midsection.
Vertical Stripes: Vertical stripes can help to elongate the body and create a more flattering silhouette. Look for swimsuits with vertical stripes in dark colors to help hide belly pooch.
Busy Prints: Busy prints like polka dots or a bold floral print, can be a great distraction from the belly area. Look for swimsuits with bold prints or patterns that draw attention away from the midsection.
Now that you know your body type, it's time to start shopping (the best part!)! Belly Pooch: Best Swimsuit To Hide Tummy Bulge
Let's do some swimsuit shopping, shall we?!? Bikini season is finally here, yay! Here are my top picks!
---
Swimsuits for the Pear-Shaped Woman That Hides The Belly
You will find my favorite top picks of swimwear for all you pear-shaped gals out there!
This one-piece from Amazon is a great option for pear-shaped women. It has such a stylish look! It has a ruffled top that will help to balance out your hips and thighs. Plus, it comes in darker colors like the black you see below! Black hides most any imperfections and is always the best option! (However, you are BEAUTIFUL the way you are, do NOT forget that!!)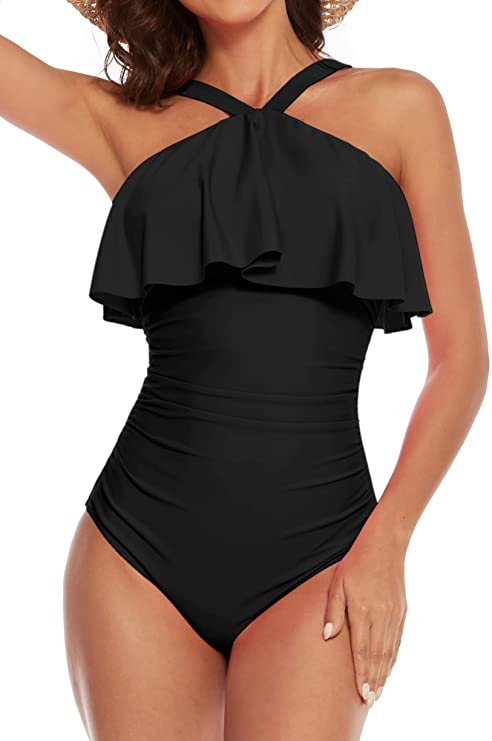 This swimsuit is too dang CUTE! I love how it not only covers the tummy area but also is stylish and would make any pear-shaped woman feel sexy and confident!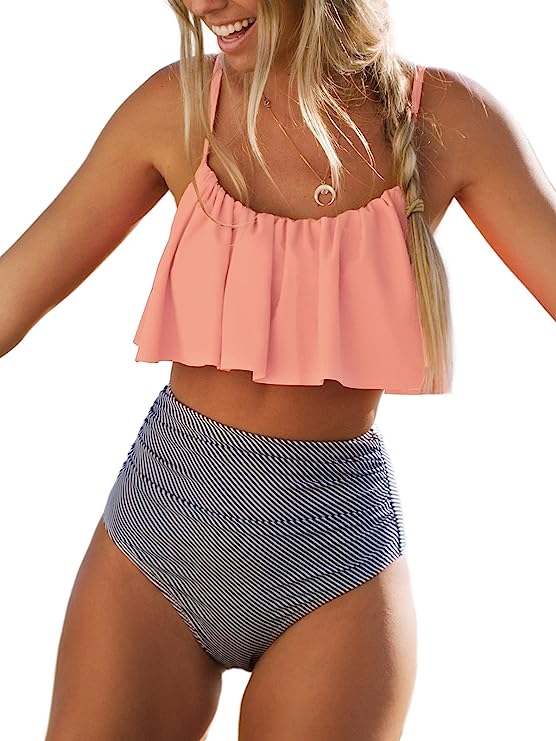 This tankini is so fun and I love the color and print! Tummy control? Check! Perfect for a pear-shaped lady? Check! Busy on the top, and concealing on the bottom! Yay!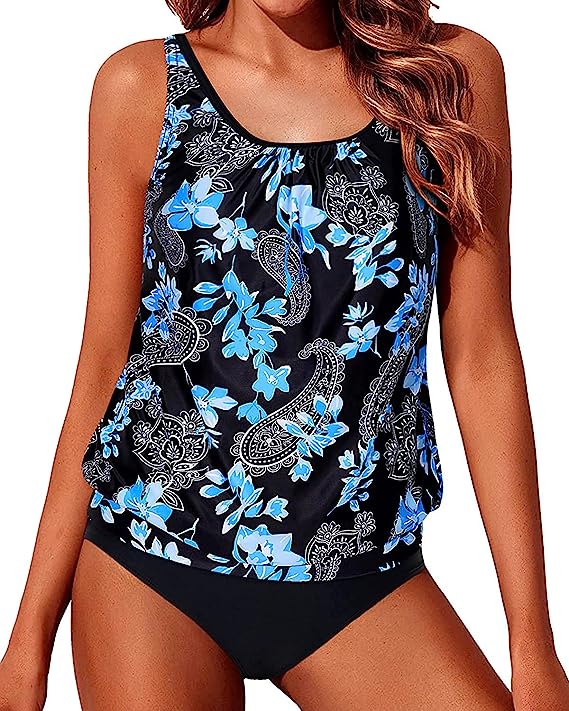 ---
Swimsuits for Hourglass Shape That Hide Tummy Bulge
Below are my top picks of swimsuits for all you hourglass-shaped goddesses!
This two-piece from CUPSHE is perfect for hourglass-shaped women. It has a high-waisted bottom is a great way to accentuate your curves and has a tummy control feature because it is high waisted. It also looks like it may have a padded push-up bra!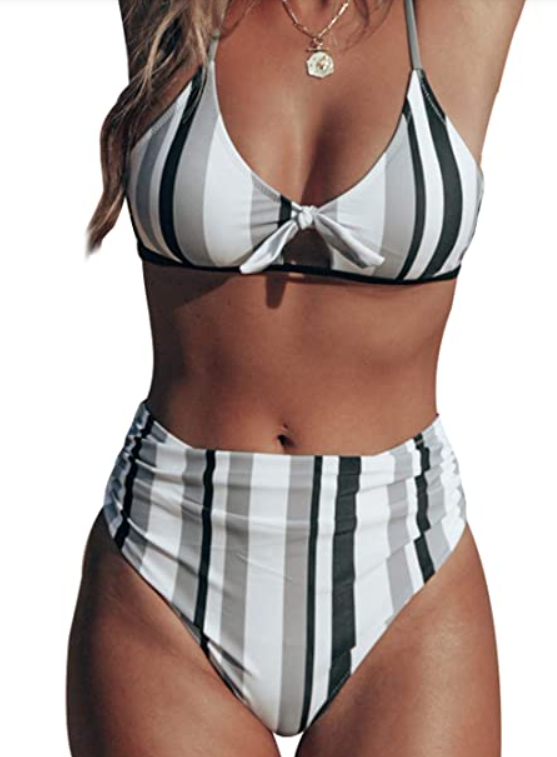 This 50s-inspired one-piece swimsuit is perfect for all you full-figured women out there! Reminds me of Marilyn Monroe!! LOVE! It comes in 7 different colors/prints!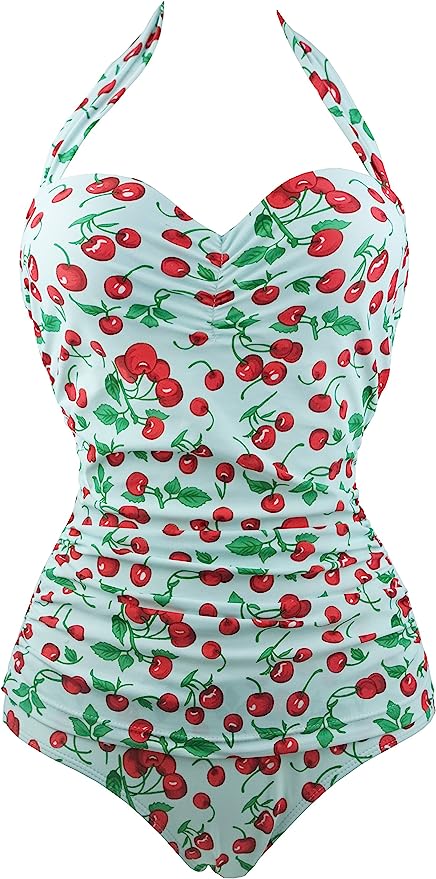 This swimsuit is so pretty and unique! I love the bow in the back! So fun! And? Lots of tummy control! Yay!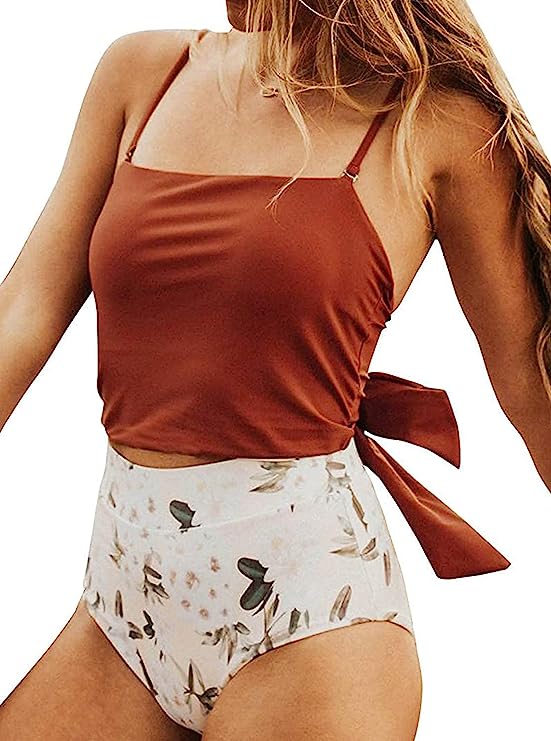 ---
Swimsuits for Petite Body Shapes That Hide Tummy
Here are my top swimsuit picks for all of you gorgeous petite ladies out there!
This one-piece suit swimsuit from Amazon is the perfect swimsuit for petite gals! The small print will help to make you look fuller-figured, and the ruffled top will add some extra volume for small-breasted women, and still covers that tummy! This swimsuit has great tummy control and will easily help you conceal those few extra pounds.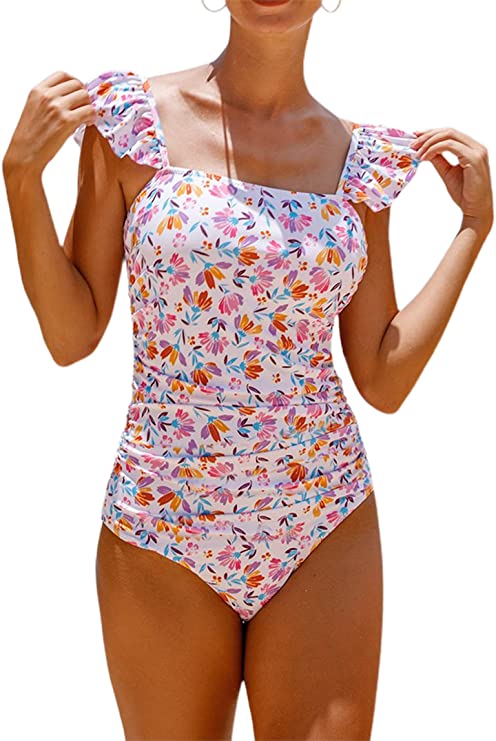 I love this cute CUPSHE Women's Two Piece High Waisted Ruffle Floral Bikini Set! Isn't it adorable? It would look so cute on a petite body (or any body!!)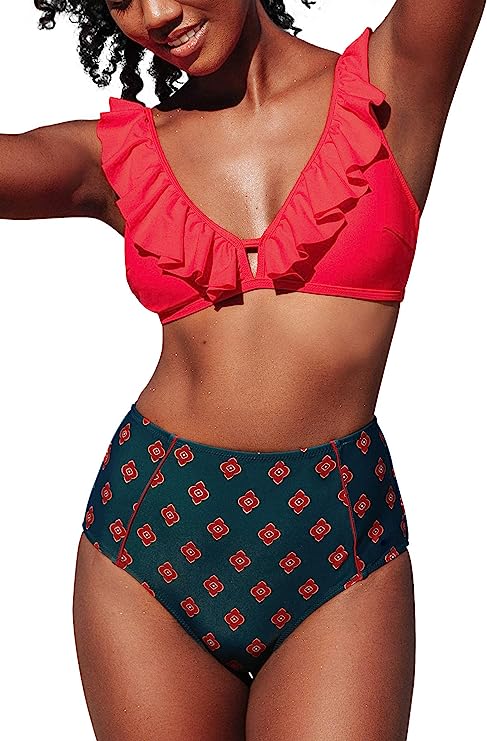 This swimsuit for belly pooch and petite frames is SO dainty and cute looking! Don't you think? We love it! And the color is SO pretty! It also comes in a few other colors too!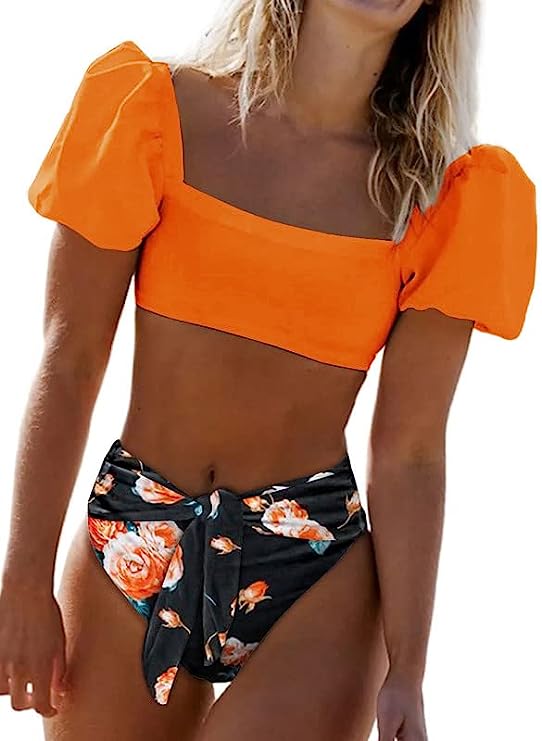 ---
Swimwear For Straight Body Shape That Covers Tummy
The below swimsuits are my top picks for you straight-bodied sexy mamas!
I LOVE this swimsuit from Amazon! It is not only stylish and super super cute but it will enhance your curves with the little cutouts on the sides of this suit! PLUS, it will still cover that tummy bulge too!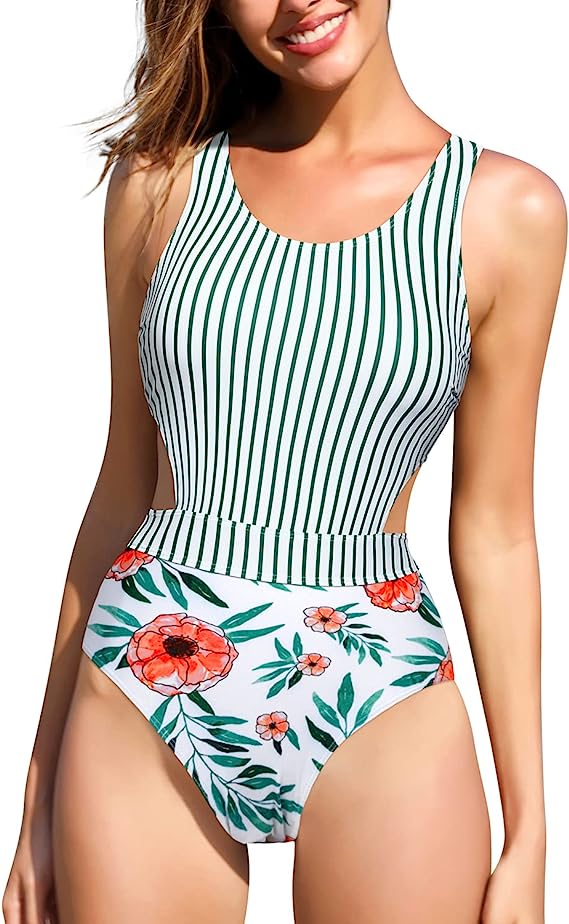 And this one from Amazon is also perfect for you straight-bodied beauties!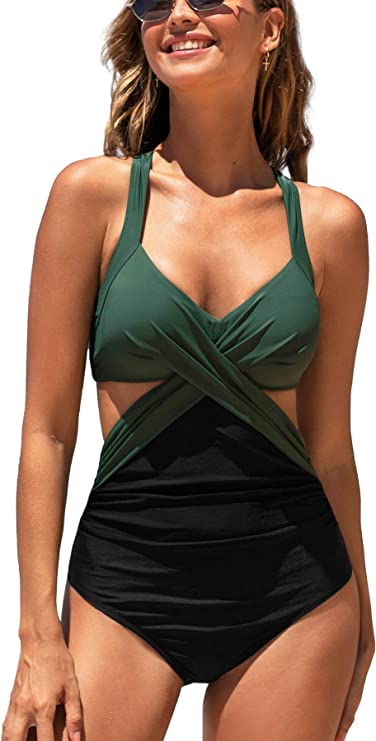 This is totally adorable! It also comes in three different colors!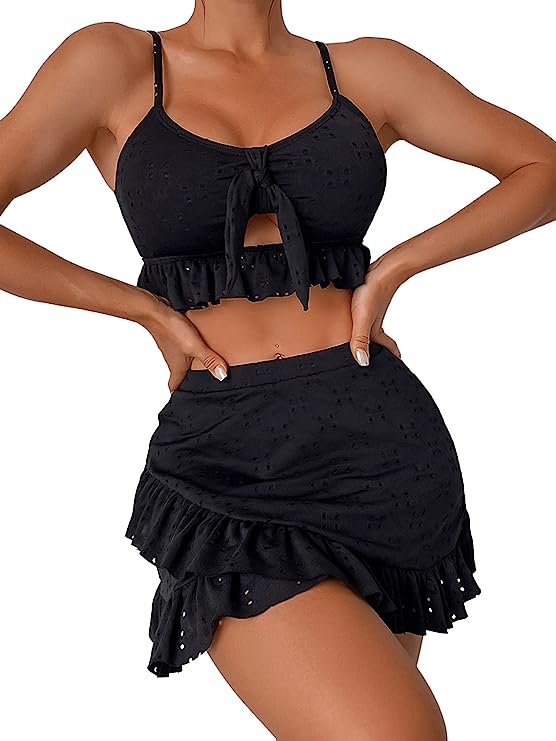 And THIS ONE!! I think this swimsuit is the best one for straight-bodied women that want to hide their tummy!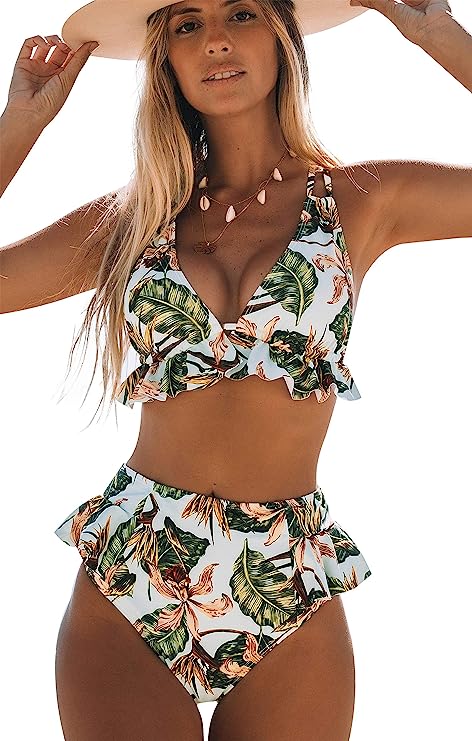 ---
Apple-Shaped Body
Below are my tip-top picks of cute and stylish swimsuits for all of you adorable apple-shaped gals out there!
This suit is PERFECT for an apple-shaped body and also covers that tummy area! This suit comes in several different colors/prints!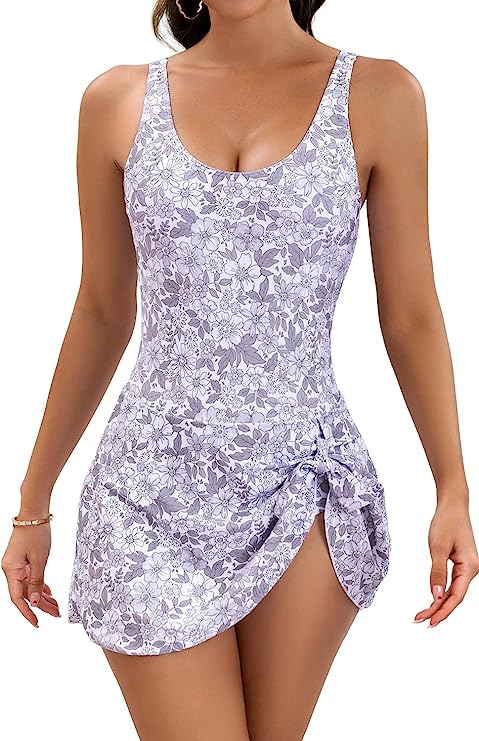 This swimsuit is adorable and is great to not only hide your belly pooch but also would balance out your body and make everything more even looking!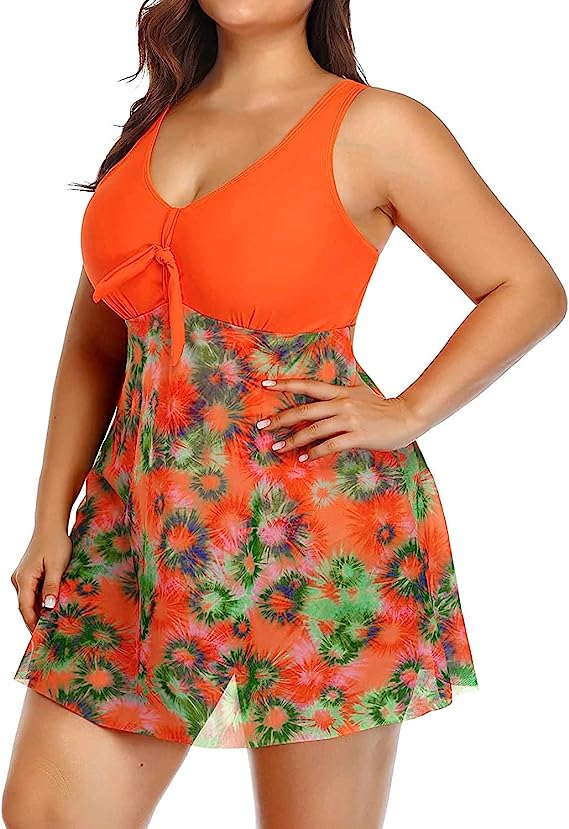 This CUPSHE swimsuit is adorable and is great for an apple-shaped woman! Hides the belly and camouflages your body to look proportioned!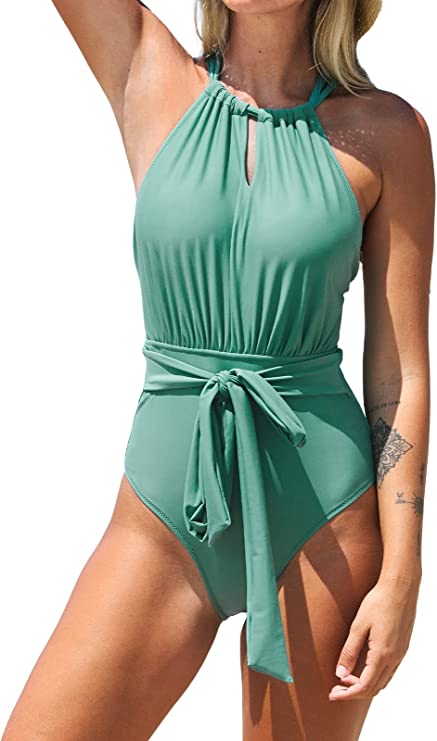 ---
If you're still not sure what swimsuit will look best on you, it's always a good idea to consult with a salesperson or personal shopper at your local swimwear store. They can help you find the right style, color, and fit for your body type. You can also take a look at online swimwear retailers. Many of them have sizing charts and customer reviews that can be helpful in finding the right swimsuit. I have found some really cute swimsuits online because I read the reviews.
I hope my blog post about Belly Pooch: Best Swimsuit To Hide Tummy Bulge has helped you decide which swimsuit would be best for you and your body type. There are so many different swimsuit designs to choose from that will give your body a slimmer look. The right swimwear is just waiting for you! I love shopping on Amazon. That is where I buy most of my fashionable swimsuits!
If you are looking for workouts to help you 'beef up your booty' and give it more muscle, then you need to check out my blog post for the best way to build a toned and round butt! Has AWESOME info and exercises to help you achieve the butt of your dreams!
What swimsuit is your favorite swimsuit to wear? Tankinis? Two-piece? One-piece? Or do you prefer to just wear shorts and a tank top? Let me know in the comments below!