Airbrush Tanning Vs Spray Tanning Which Is Best?
If you enjoy getting a golden glow without the sun and showing off your gorgeous muscles (because tans make muscles pop!), then you may have asked yourself this question; Airbrush Tanning Vs Spray Tanning Which Is Best? In this article, we'll explore the differences between the two methods and help you determine which one is best for you. Airbrush tanning and spray tanning are two of the most popular methods for achieving a sun-kissed glow without exposing your skin to harmful UV rays. While both techniques involve the application of a tanning solution, they differ in terms of the equipment used, the application process, and the final results you are wanting.
*This post includes my affiliate links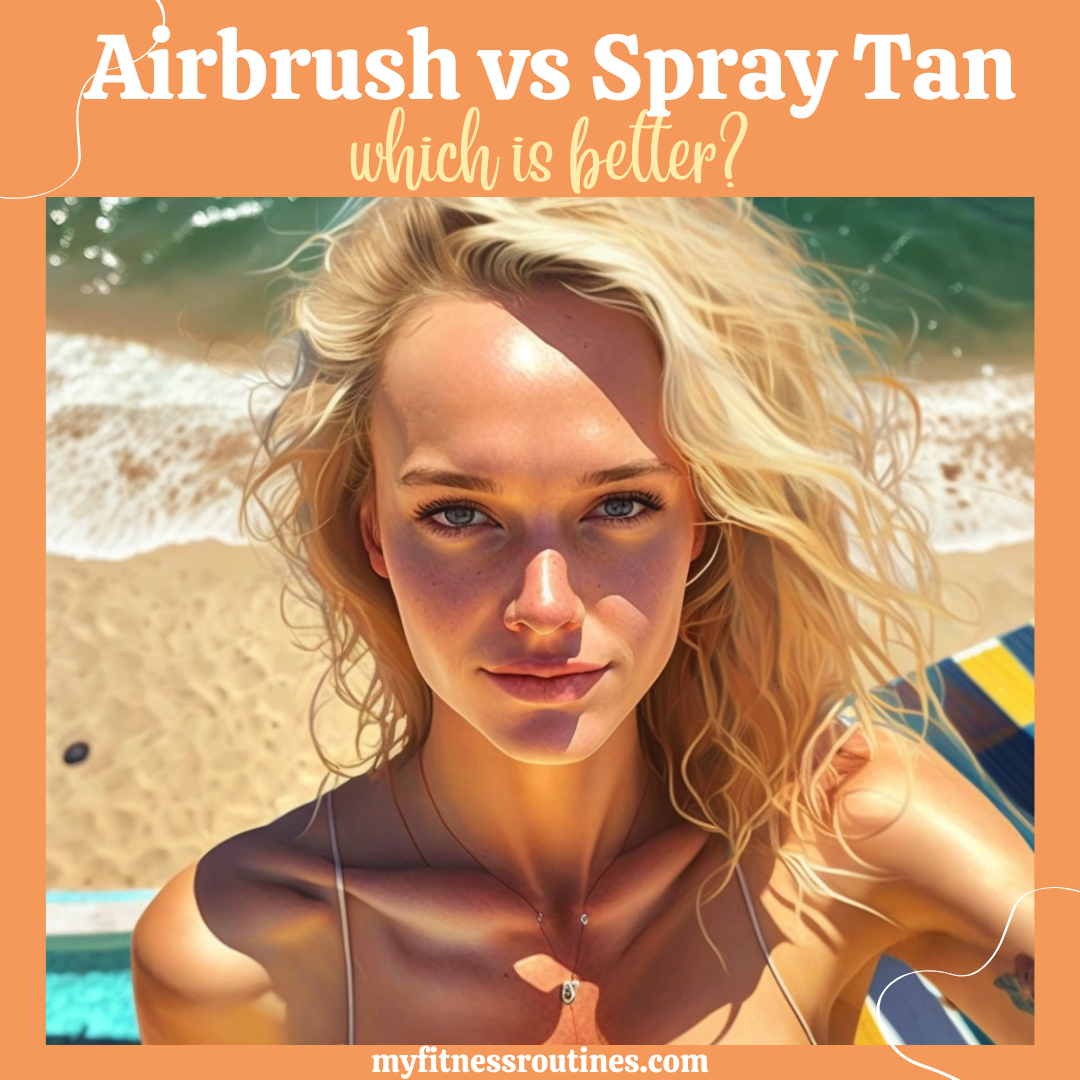 My AI Art I created! Isn't she pretty? 🙂
Airbrush Tanning Vs Spray Tanning Which Is Best?
Choosing between airbrush tanning and spray tanning can be a daunting task, especially if you're new to the world of sunless tanning and don't know much about either one. Below, we will discuss airbrush tanning vs spray tanning and which is best! Let's get started!
Airbrush Tanning
Airbrush Tanning uses DHA, which is the main ingredient and active ingredient in the tan solution, and it reacts with your skin's amino acids and the outer layer of your skin cells to produce a full-body tan that is a natural-looking glow similar to a traditional tan and just as beautiful!
Airbrush tanning is a more personalized method of sunless tanning. A technician at a beauty salon will apply a tanning solution to your skin using a compressor and an airbrush spray gun. This allows you to control the amount of tan you want and to get a more even, natural-looking tan. Airbrush tanning can take anywhere from 15 to 30 minutes, depending on the desired level of tan. This is a great option if you have a special event you are going to.
My Personal Experience Getting An Airbrush Tan:
I got an airbrush tan done at a salon years ago and LOVED how it turned out. Because a real human is spraying your body, there is less room for streaks and errors.
The tanning technician at the tanning salon was very kind and I was not embarrassed at all. I say this because you have to stand either naked OR with a bathing suit on. I opted to go topless and just wear my g-string underwear so I barely had any tan lines. So, if you have any qualms about being nude or half-naked in front of a stranger, or don't want to show off certain areas of the body, then this might not be for you.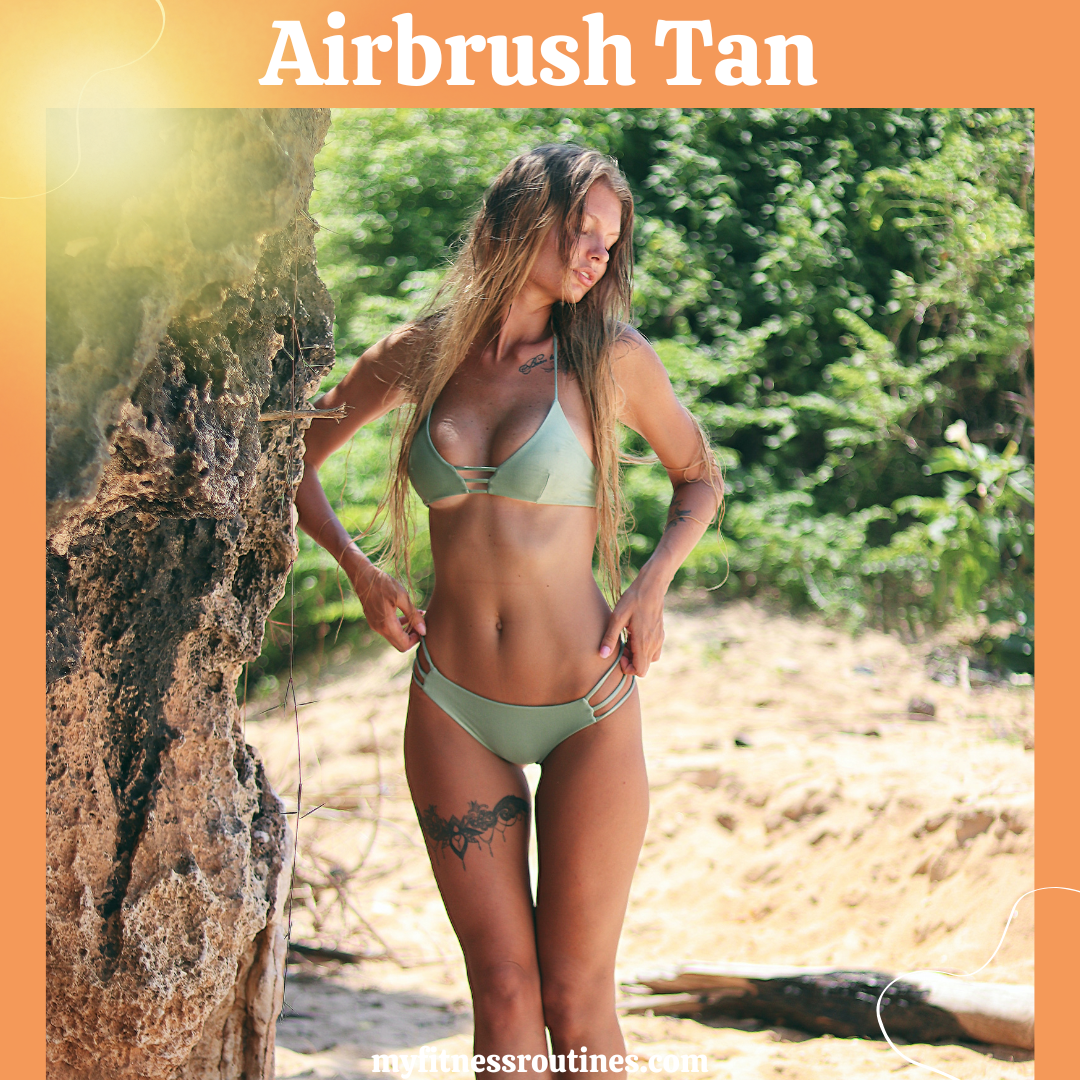 The technician looked at my skin type and then blended the right colors to create a custom airbrush tan just for my unique skin tone and the right amount of solution that would be needed. I loved that! She spray-tanned all the areas with a light mist, that were hard to reach like my inner thighs, armpits, and places that needed less sunless tanner like my feet, hands, etc. In a matter of minutes, we were done and I was so bronzed-looking! I loved it!
Before putting on your clothes you should stand in front of a fan or A/C unit and let your skin completely dry. I think I waited about 5-10 minutes before getting dressed just to be safe. Of course, it was also raining outside that day I got my airbrush tan done, so I had to completely cover my body and run so fast to my car! Ugh, of course, that would happen! But, everything turned out okay and my tan wasn't ruined! Thank God!
My tan turned out so pretty and I was SO tan. Not an orange tan, but a nice bronzed tan. It lasted about 2 weeks before I noticed it starting to fade. It started fading the quickest on my hands and face because I was constantly washing those body parts the most. The airbrush tan is my preferred method for sure.
Pros of Airbrush Tanning
* More even, natural-looking custom tan
* More control over the amount of tan you get and the level of your tan and specific areas of your body can be targeted more easily
* Can be done in a shorter amount of time
* Can be done at home: you can hire someone to come out to your home and do it in the comfort of your own home! I love this idea so much!
Cons of Airbrush Tanning
* More expensive than spray tanning
* A real-life tanning expert (duh!) will be doing this so you will have to be comfy naked in front of a stranger
* Can be more difficult to find certified technicians who offer airbrush tanning because so many salons have turned to machines to do it
*The sunless tanning process is longer because a tech has to spray it on you
Spray Tanning
Spray tanning is a more automated method of sunless tanning. You will stand inside tanning booths (an automated booth) and a machine will spray a tanning solution onto your entire body on the outer layer of the skin. This method is quicker than airbrush tanning, but it can be more difficult to control the amount of tan you get. Spray tanning can take anywhere from 3 to 5 minutes which is way quicker than a tan session in a bed.
My Personal (HORROR) Experience with Spray Tanning
Oh boy. And when I say 'oh boy' I mean holy crap! When I made this appointment to get a spray tan, I only knew about airbrush tanning so I thought a real human would be spraying me like last time. Uh, nope! You have to stand inside of a machine that LOCKED my claustrophobic self IN. Back in the day they locked you in, not sure if they still do that! But oh my goodness, it was NOT a good experience!!!
Not to mention I was also 16 weeks pregnant with my first child! I know, I know, probably not the best thing to do but better than laying out in the sun or visiting a tanning bed, baking my fetus, then just dying my skin, right?
Anyway, when I got to the salon and was shown how to operate the spray tan, I was just really uncomfortable! I was really unsure because I KNOW how claustrophobic I am! But, I tried it anyhow. I probably should not have though!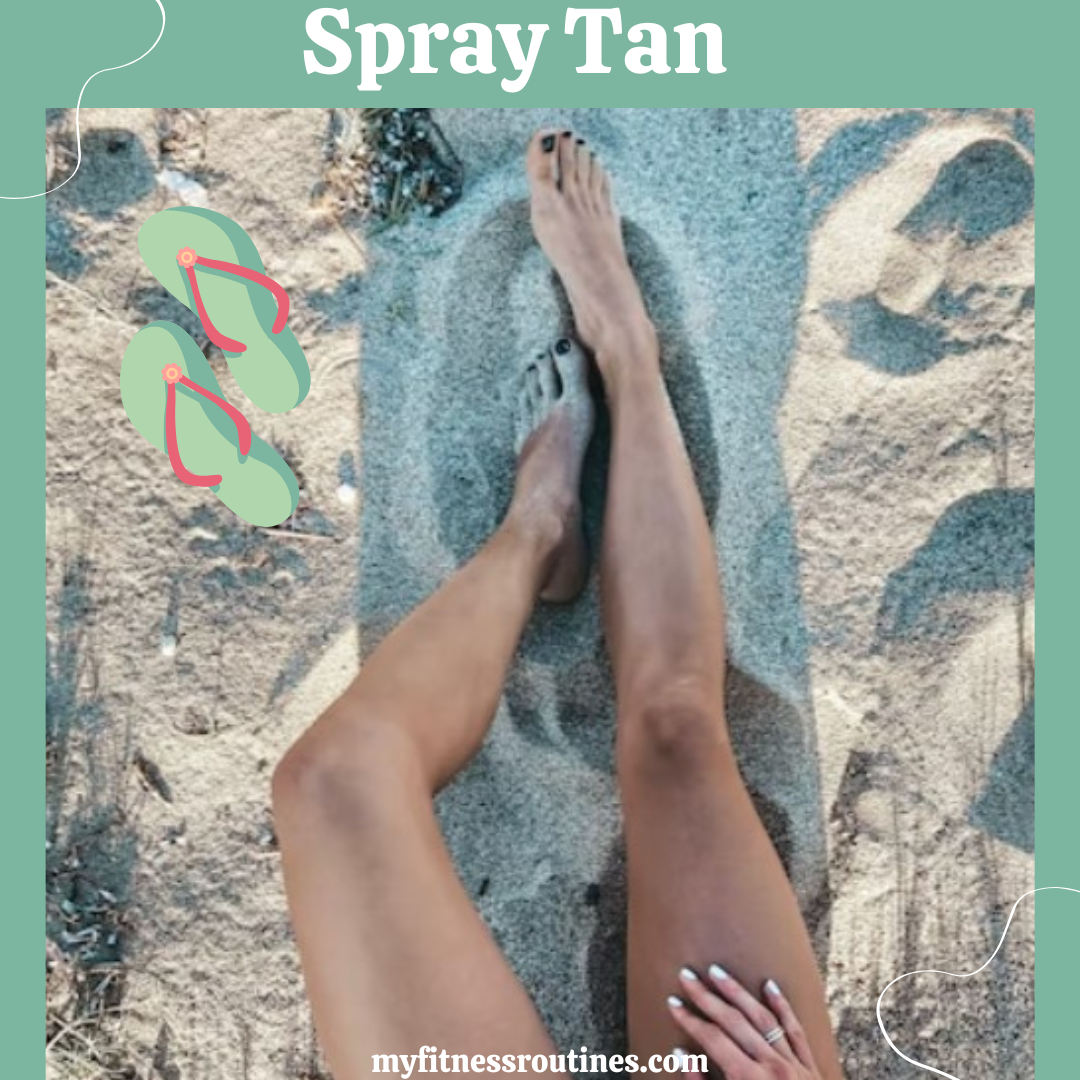 I put on a shower cap that the salon provided and then I put some barrier cream on the palms of my hands so that the spray tan would not color my palms. The salon also provided barrier cream. Then I undressed put on the disposable underwear that I brought and was ready to get my natural glow on, or so I thought…
As soon as I stepped into the spray tan booth and it closed its door and I heard it 'lock' I started breathing SO fast and hard. I thought, oh dear God, I am going to die and hurt my baby too! That made me even more scared! The panic attack came on and was so strong I started crying and not being able to breathe! It sucks SOOOO bad!
The spray tan machine started talking and then it told me to hold out my arms and stand a certain way. Then, it started counting down from five. When it got to one, it started at my face and started spraying spray tan IN my face full force. That absolutely did NOT go well at all. I already couldn't breathe well! Then it started spraying down my body, front and back. But, that is when I decided I had to get OUT now! So, I got out…
I can't remember too much of this horrid experience but I do know I most definitely broke out of that tanning booth and am pretty sure the door on that machine no longer worked properly. I quickly got dressed and ran out, literally ran out. The salon lady was SO concerned and tried to ask me if I was okay but I just ran out and never looked back! Ugh!
And my spray tan? Ya, that was hilarious! Only HALF of my body was tan and the other half didn't get ANY tanning spray on it. It was like that because I was trying to open the door and I was standing weirdly! LOL. It is safe to say I stayed hidden for a week or so while I was trying super hard to scrub off my skin and get that self-tan to come OFF!! Ugh. Taking off sunless tanner is hard!
However, I MUST say that my friend DID go to get a spray tan done and her tan was gorgeous. It wasn't as nice as my airbrush spray tan I had earlier, but it was nice for a machine spraying it on you.
All in all, I do NOT recommend getting a spray tan if you are claustrophobic. Just do NOT do it! Trust me! But, if you are not claustrophobic and can't stand the thought of a real-life human staring at your half-naked or naked body, then the spray tan IS the better choice for you.
When making your decision, just remember that the salon airbrush technician is trained to do this and she sees naked people ALL the time, all day long! So, if that is your only worry, don't let that stop you. Airbrush tans are just SO much better!!!
Pros of Spray Tanning
* Quicker than airbrush tanning
* Less expensive than airbrush tanning
* Easier to find a salon that offers spray tanning as there is no professional technician that is needed
*Gives you an instant, flawless tan
Cons of Spray Tanning
* Less even tan
* More difficult to control the amount of tan you get because a machine is doing this not a person holding a tanning gun or airbrush gun
* The tan shade can be more orange-looking than airbrush tanning and there is no mixing to get your specific skin tone color
*Safe alternative to a booth tan or tanning session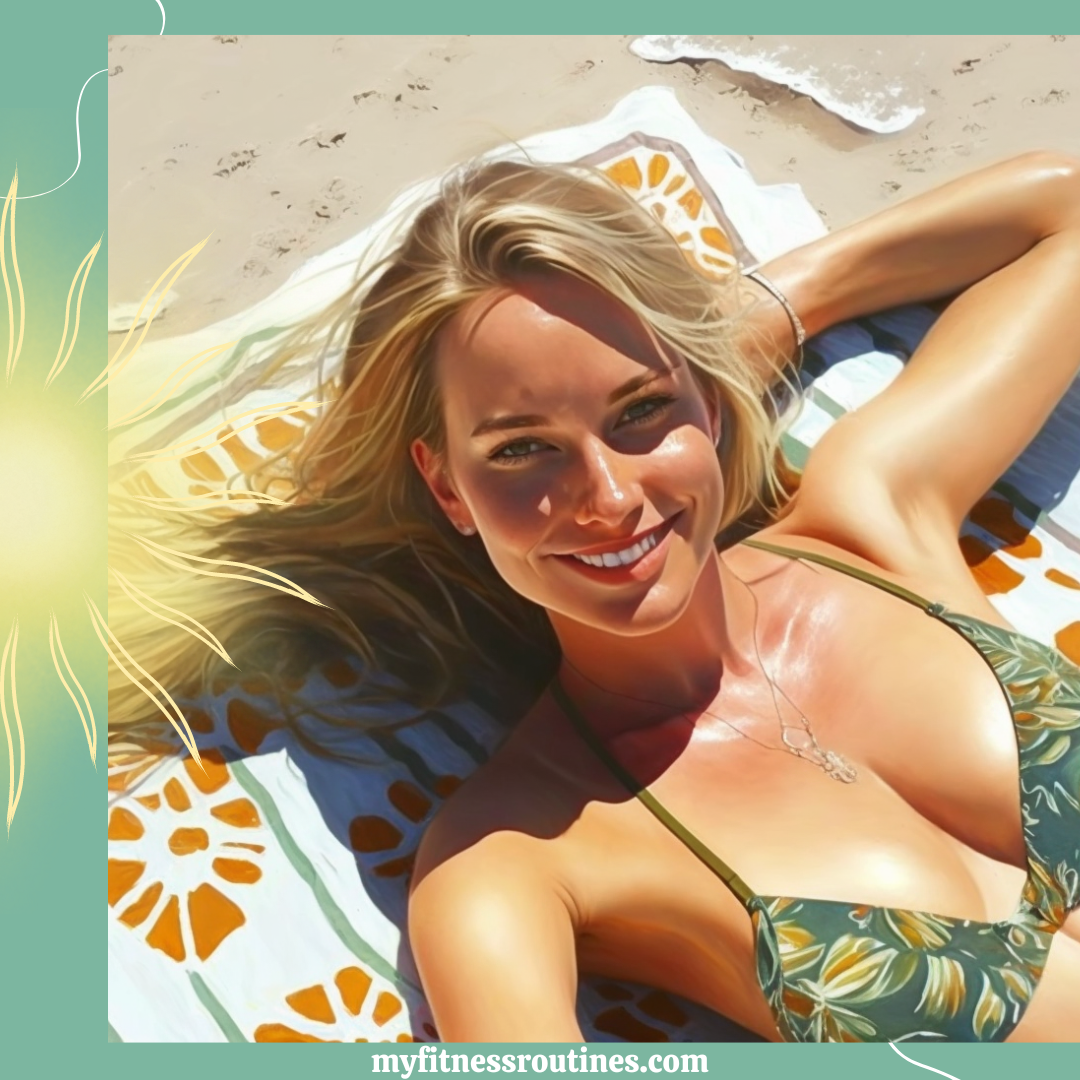 More AI art I created! She isn't real, folks!
Airbrush Tanning Vs Spray Tanning: Which Tanning Method is Right for You?
The best way to decide which sunless tanning method is right for you is to consider your budget, your time constraints, whether you are claustrophobic or not, and the look you want to achieve. If you are looking for a more even, natural-looking tan, airbrush tanning is the best option. If you are looking for a quicker, less expensive option, that you can do without another person, then spray tanning is a good choice.
For Best Results, Follow These Sunless Tanning Tips BEFORE You Get One!!!
Here are a few things you should do BEFORE you get an airbrush or spray tan:
* Exfoliate your skin before your appointment. This will help the tanning solution to absorb evenly.
* Shave any areas where you want to get the spray tan
* Wear loose-fitting clothing to your appointment and flip flops
What to do AFTER you get a spray tan or airbrush tan: Additional Information!
To prolong the life of your spray tan, follow these helpful tan tips:
*Avoid getting any water on your skin (so no baths/showers!) for at least 12 hours. I waited a full 24 hours!
*When you do take a shower, do not exfoliate! Not unless you see darker, or uneven spots then you can exfoliate the heck out of that area to make it match your other self-tanned skin!
*Use lotion or a tan extender on your whole body like it is going out of style. Moisturizing your skin after getting a spray tan or airbrush tan is SO important! This helps to keep your tan looking healthy and beautiful and helps to extend your self-tan.
*Avoid spending time in hot tubs and swimming pools for at least 24 hours!
With these tips, you can get a beautiful sunless tan that will last for weeks!
My Favorite Self Tanner For Home Use!
If you start to notice your sunless tan fading right away, you can easily touch up those areas with a self-tanner like Coco & Eve Sunny Honey self-tanning mousse. I am OBSESSED with this sunless tanning mousse! I have tried ALL of the sunless tanning products out there, trust me, and I keep going back to this one because it is absolutely gorgeous and makes my tan look like a natural tan! I always have a perfect glow after using this brand.
It doesn't matter what your skin type is. I have light-colored skin and I use their dark-colored self-tanning mousse! They also have a medium-colored one, and an ultra-dark one, but the dark-colored one is so pretty and natural looking on my skin and the medium-colored one did not give me much color. There are a TON of sunless tanning options but this is by far my favorite one! So, if you are looking for a great at-home sunless tanner that will give you that perfect tan, I recommend that one! Especially if you want to be a bit tanner for a special event, special occasions, or just because you want to feel pretty! This is the perfect choice for a sunless tanner!
What Are The Health Risks?
Of course with anything that is sprayed on you and in your face, there will be health risks. Spray tanning has some health risks, although they are generally considered to be less serious than the risks of tanning in the sun or in a tanning bed.
Irritation of the skin: Some people experience irritation of the skin after spray tanning, such as redness, itching, and dryness.
Eye problems: If DHA gets into the eyes, it can cause irritation and inflammation.
Harmful if inhaled: DHA is generally considered safe, but it can be harmful if inhaled. While getting a spray tan, it's essential to avoid breathing in the chemical. People with asthma should be particularly careful. There is a belief that extended exposure to DHA can damage the lungs, which is why the FDA has not yet approved DHA-based spray tanning.
If you are considering getting a spray tan, it is important to talk to your doctor about the risks and benefits. You should also make sure to choose a reputable salon that uses safe and effective products.
In conclusion, both airbrush tanning vs spray tanning are popular methods for achieving a natural-looking, sunless tan. While they share some similarities, such as providing a convenient alternative to traditional tanning methods, there are also significant differences in terms of application technique, and overall results. Ultimately, the best choice between airbrush tanning vs spray tanning depends on your personal preferences and desired outcome. By considering factors such as your skin type, budget, and desired level of control over your tan, you can make an informed decision and enjoy a safe and beautiful sunless tan all year round!
PIN IT: Airbrush Tanning Vs Spray Tanning