This article is all about hip dips! Do you have them? If you're not sure what they are, don't worry! We're going to explain everything in this article. Hip dips are natural indentations that occur on the side of your hips, and they aren't a bad thing. In fact, many people have hip dips and there's nothing wrong with them. However, social media has caused so much hype around this recently, and many people are concerned that they mean something is wrong with their body when in fact NOTHING is wrong with their body.
*This post includes my affiliate link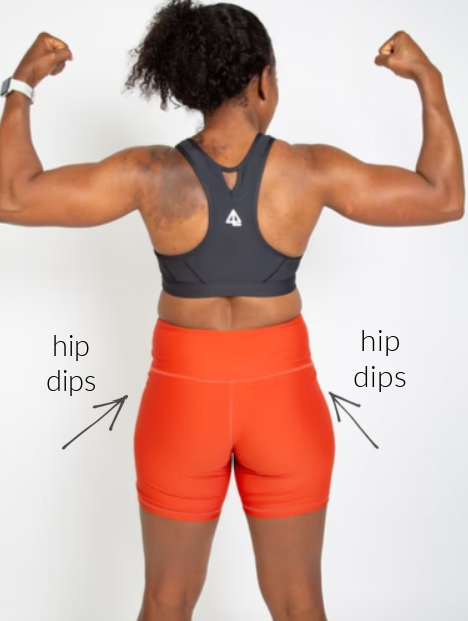 All About Hip Dips
Today, we're going to set the record straight and talk about why hip dips are not a bad thing.
So, What Are Hip Dips?
Hip dips are indentations that can be seen along the sides of the hip bones. They are often most noticeable when a person is wearing tight clothing, such as jeans or a bathing suit. While hip dips are not considered a medical condition, some people may feel self-conscious about them, (but they shouldn't!).
The main cause for them is genetics! Some people are simply born with them. There are also a few exercises that can help to reduce the appearance of hip dips, however, it is important to note that hip dips cannot be completely eliminated. Ultimately, they are just a natural part of the human body. Thus it is impossible to get rid of them.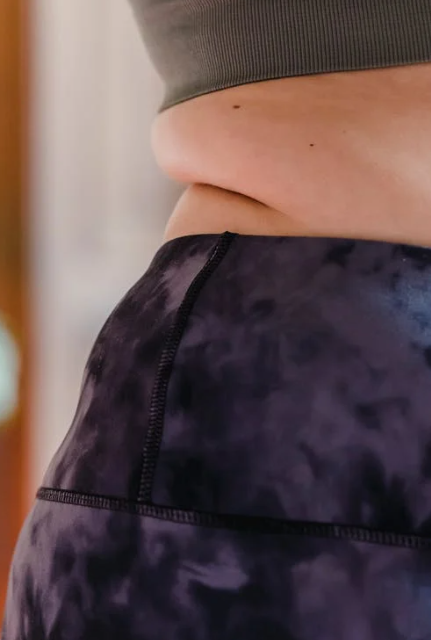 In reality, hip dips have everything to do with how your bones are structured. You can add more muscles or fat to make them less visible, but it's impossible to make them vanish. The one thing we can never change about our physical body is our bone structure or genetics. Since they are mainly related to your genes, you obviously can't do much about them, so you might as well embrace them!
Exercises That Can Help With The Appearance Of Hip Dips
There are so many articles online that promise you can get rid of hip dips by exercise. In reality, you cannot fix something that is supposed to be a part of your genetics or bone structure. But the thing about them is that you can make them less noticeable by exercising regularly. You can certainly build a toned and rounder bottom, but those dips you see? They are pretty much there for good and that is okay!
You should choose workouts that help you tone your entire body, not only your thighs or hips. Such exercises can help you add more muscles (or fat) to the indentations on your hip bones, thus making them less noticeable with time. Consult an expert to help you find the correct exercises for this purpose.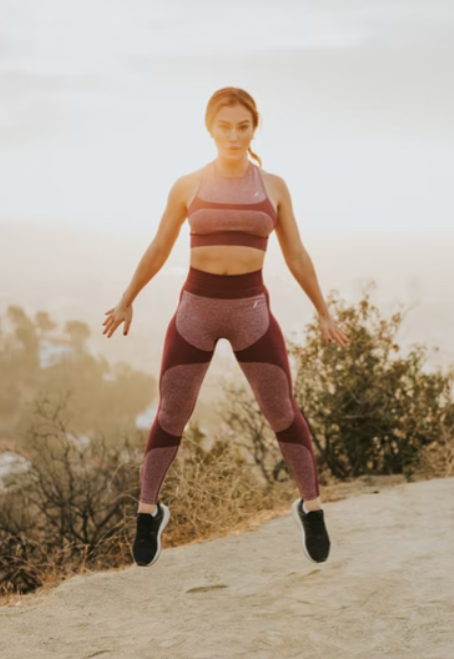 There are a few exercises, as I stated above, that can help you 'fill out' your dips if you are that upset with them. Some exercises for them are:
*Side-Lying Leg Lifts: You can use ankle weights or just use your bodyweight (leg weight)
Those are the main exercises for them because they work the sides of your hips. Other exercises are:
Those are just a few more exercises that may help with them.
New Ways To Accept Them
To start accepting your gorgeous dips, it's important to realize that they are a natural and normal part of your body. Just like everyone has different fingerprint patterns, hip dips are unique to each person. They're not something that you can get rid of or change, so it's important to learn to accept them. Once you reduce your anxiety about them, you can focus on making them less visible if you want.
There are a few things you can do to minimize the appearance of them, such as:
– Wearing high-waisted pants or skirts: This will help to create a smooth line from your hips to your waist, making hip dips less noticeable.
– Doing exercises that target the hip area (see above): Strengthening the muscles around your hip area can help to minimize the appearance of hip dips.
Accepting your dips is an important step in learning to love and appreciate your body just the way it is. Remember, they're unique to you and they make you who you are. Embrace them!
Ignore What You See Online
Most people who are anxious about them have developed their worries due to what they have read or seen online. Social media these days expects people to be perfect in every possible way, whether emotionally or physically. Almost everyone on social media, especially fitness influencers, alters their images in one way or another. It is all about posing or using filters nowadays! I promise! So, do NOT compare yourself to anyone other than yourself! Trust me!
Women have had them forever, yet the internet has made this natural body feature seem like a huge problem. But now that you know how normal it is to have hip dips, the next thing you need to tackle is paying less attention to all online content you see around this topic and focus on YOU. 
Perfection is about accepting your physical form and not feeling the constant need to change something. This step also includes accepting the hip dips that you are blessed with. Once you learn to feel okay about these little indentations of perfection, you won't struggle much the next time you read a post about them over the internet or see women with perfectly rounded hips. ALL hips are GORGEOUS!!!
It is time to unfollow brands or people who make you think that things like these make you look imperfect. This will make it much easier for you to form your unique opinions about hip dips and accept the ones you have! 
There Is No Need to Worry About Them!
So, what was the point of all this discussion we did today? The point is quite simple – hip dips are in no form a bad thing. There is no need to feel insecure or feel this overwhelming urge to get rid of them. 
It's time to move past the quick fix culture noticed online and accept your body as it was made to be. Think of hip dips as a physical feature that helps you stand out or a feature you were supposed to have. After all, hip dips are a mere result of your genetics that do not indicate that you are unhealthy or that there is something wrong with how your body.
Today, we discussed briefly what hip dips are and the real causes behind them. We also discussed if there are any ways to make hip dips disappear and why they are not as bad as we might think. 
I really hope that this post allows you to accept and LOVE your hip dips and understand how natural they are. Hopefully, now you can accept your hip dips easily and even be proud of your unique features! Show off your beautiful hips! Once you accept your body and start loving it, others will see how confident you are! Confidence is all we need! You are beautiful!
Thanks for reading and if you want to add to this discussion, please leave a comment below! I would love to talk with you!
Disclaimer: Please note that this blog post is not a substitute for medical advice. The information provided above should not be used as a basis for diagnosing, treating, or preventing any medical condition or disease. Before making any modifications to your diet, sleep regimen, daily routine, or exercise program, consult your physician. My Fitness Routines is not liable for any physical harm or injury that may result from the suggestions, opinions, or recommendations provided in this article.